The real visionary behind Cat's Eyes
It is an invention that we all take for granted. The cat's eye has been guiding drivers since its invention in the early 1930's. Enabling vehicles to travel in the dark, the fog and during the blackout of World War II, whilst helping to save numerous lives on the UK's roads, the invention of the cat's eye is credited to Percy Shaw.
Shaw patented his idea in 1934, however, two years earlier a patent application was lodged by Frederick Walter Madeley Lee entitled 'Improvements to and relating to road signs and the like'. This patent application, lodged on 20th January 1932, outlined Lee's idea to install reflectors in recesses along road kerbstones or in posts driven in to the ground along the road side, helping drivers to see the road during night and in limited visibility.
In Patent Application Number 1728/32, Lee described how these reflectors should be placed at suitable intervals along the road, pointing in the direction of on coming traffic so headlights illuminated the reflectors to show the position of the kerb and consequently the course of the road. He also added that the sunken position of the reflectors would protect them from damage and mud splashes, but his design also allowed rain in to the recess creating a self-cleaning reflector.
In his application Lee goes on to explain how different coloured reflectors could be used to indicate, for example, the proximity of cross-roads, road junctions and steep hills, together with different colours on the outside of a bend to the inside - all of which would aid drivers and help them to travel more safely.
The majority of the uses for cat's eyes Lee suggested in his application are now standard practice, with most roads having cat's eyes down the centre, and coloured reflectors indicating slip roads and other junctions. Due to family obligations, Lee could not afford to progress with his patent application, and it had to be abandoned.
"Our aim is not to discredit the work done by Percy Shaw, but to raise awareness that he was not the inventor of cats eyes" explains Jackie Lee, Frederick Lee's daughter.
"My father had his invention recorded in the Official Journal (Patents) on January 20th, 1932, two years before Percy Shaw, but unfortunately due to the cost of registering a patent once it has been approved and the continuing payments required to maintain it, it had to be abandoned."
"My sister, Heather, and I are extremely proud of our father's achievements, which included a number of other inventions many of which went on to be patented, and we would like to make sure he receives the recognition he truly deserves, even if it is a little late !" concludes Jackie.
January 2010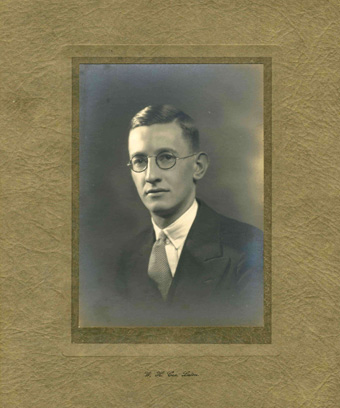 Freddie Lee